daytime
DAYTIME STRANGE OBJECT OVER GREENSBURG PENNSYLVANIA
5-29-12 GREENSBURG PENNSYLVANIA
I was working outside and saw a shadow appear on the street, assuming it was a large bird, I looked up and saw a silver verticle swath of an object moving slower than the wind, steady speed (maybe 4mph), just over the power lines and traveling inline with the power lines. (wind was blowing in a slightly different direction) The sunlight reflected off it and it had bubble like impressions in the surface, the lower part was dark and I didn't see it clearly. I walked around my vehicle to see it before the tree obstructed its view.  I went out to the street and it was gone. No ballons, birds, planes or other objects was in the sky. I saw it for a total of about 10 seconds and about 30 some feet in the air. It looked to me like the magnetic field from the power lines exposing the tangent of a sphere but not more than a few feet wide and 9 feet high was exposed.  NOTE: The above image is a rendering.
This case is under investigation by MUFON Pennsylvania.         KEN PFEIFER WORLD UFO PHOTOS
WWW.WORLDUFOPHOTOS.ORG
WWW.WORLDUFOPHOTOSANDNEWS.ORG
WWW.MUFONNJNEWS.COM
DAY TIME PHOTO OF A UFO OVER BRONX NEW YORK
5-11-12 BRONX NEW YORK
I looked out my window and I saw a plane passing by and the noise made me look up and then I saw the object(s).  I honestly been seeing strange lights and movements the past couple of days so at first I thought maybe its a far away plane. The object was hovering as two others went by.  It seemed as if the 1st object had stopped while three others passed by them, not to far apart from one another. Then suddenly it looked as if it took off in the same direction as the other two objects but at a faster really faster rate.  The past few days I've been seen strange objects in the city skies.  So when I spotted this one, I just knew and felt a sense of wonder.  I pulled out my camera and got to snap about four pictures.  I tried to get one as close as possible but it came out blurry.  I would like some feedback and I would like to know if I am right or wrong.   I watched it until they were all gone.  The 1st two seem to just pass right by, kind of back to back and the third one hovereed.  Thats the one I actually got a picture of.  Then after about 2 minutes it took off in a vertical motion.
Thanks to MUFON CMS system.   KEN PFEIFER WORLD UFO PHOTOS.ORG
WWW.WORLDUFOPHOTOS.ORG
WWW.WORLDUFOPHOTOSANDNEWS.ORG
WWW.MUFONNJNEWS.COM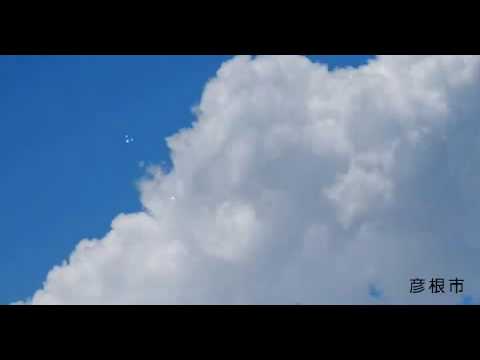 Some very odd orbs in the sky in Japan
Top 10 UFO Sightings
Archives